Account Alert
If you are the owner or administrator of this site, please Login now for important account information.

Not involved in the administration of this site? Please disregard this message.Please Click here to dismiss this alert.
FREESERVERS IS A UNITED ONLINE COMPANY
Copyright © 2016 United Online Web Services, Inc. All rights reserved.
The Secret Files* of Maxwell Smart
*by which I mean "files he accidentally set on fire and then forgot about because he got distracted by something shiny"
---
---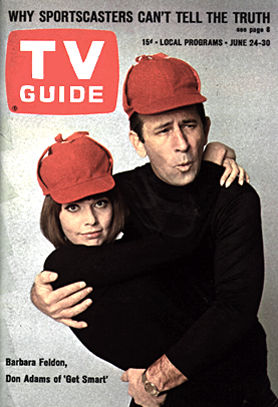 image courtesy of www.tvguide.com
Final Update: The final update consists of this sentence, which I have inserted here in order to confirm that I will never update this website again. I am far too lazy. I am also too lazy to answer questions, unless your question is "to whom should I make out this enormous certified check?" I will also answer questions about how I became so fascinating and attractive.

The Smarten Reading Room Articles and interviews from the last two decades, plus TV Guide pieces dating back to the '60s.

Transcripts:
Our Man in Leotards, Season One. In this Mel Brooks-penned e pisode, Max and 99 infiltrate a foreign embassy in hopes of immobilizing an evil anti-democratic ballet dancer. Peaches figure prominently.
The Man from YENTA, Season Two. CONTROL enlists the help of Israel's finest to protect Arab prince Abu ben Bubbie from a KAOS master of disguise, but the rescue effort quickly degenerates into a counterintelligence version of What's My Line? False beards figure prominently.
The Amazing Harry Hoo, Season One. Perennial fan favorite pits nattily-attired theoretical detective Harry Hoo against polarized prosthesis of arch-nemesis the CRAW! Sadly, this episode also marks the final appearance of big lumpy manservant "Bobo."
With Love and Twitches, Season Four. The famous wedding episodes. Will Max make it to the altar on time? Will KAOS beat CONTROL to Max's rash, or will he give in to the temptation to scratch? Can the Admiral drive a car? Can he hold a coat? Walk under his own power? All signs point to no.
Infrequently Asked Questions Mysteries of Get Smart SOLVED! Not that anybody was asking.

Bridge, Don Adams, and a Story About Playing Bridge with Don Adams (source unknown)

readingroom

The Cone of Silence This page is totally worth visiting if you think that it might be November 2001 again.

Links CONTROL outposts worldwide.

2001 updates:
June 12: All occurrences of "Ray Stevens" have been replaced with "the Hollywood Argyles." Video links have been updated also.
April 27: Transcripts are now complete, thanks to Alert Viewers Andrew and Kristina. Did you miss me? Did you miss me? I missed you.

Coming soon:
A well-deserved nap. Office Space in Bangalore


---
contact me or sign the guestbook or view the guestbook or view the old guestbook

00088724: "Well, it's not going to be a secret for long if you keep yelling about it like that."